Learn More
Our camps will begin each morning at 12:30 PM and end at 3:30 PM and will be limited to 13 kids.  We will be closed to the public during this time.  We will offer the camps for kids ages 4 to 9 years old. Camp sessions are $179/week. 
Kids can expect to play games, do tumbling activities, and best of all, play on our play floors. 
Camp sessions will begin every Monday in July and last through the week ending on Friday.  If you sign up for at least four sessions, we will discount the total price by $20 each session.  The individual sessions will start on July 6, 13, 20 and 27th.
COVID-19 Precautions
We consulted guidance from the CDC and state of Colorado and asked our customers through our survey last week to determine the appropriate path forward.  Based on this, we will take the following steps:
Before allowing children to participate, they will be required to have their temperature checked.  Any child with a temperature over 100.4°F will not be allowed to stay for the day.  
All food must be brought from home – we will not serve food from the facility (other than water)
We will have designated handwashing time every hour
Keep each child's belongings separated and in individual cubbies taken home each day and cleaned.
All seating will be spaced out 6-feet apart
We will have an employee disinfecting the play structures while the kids are participating in activities and do a full clean in between morning and afternoon sessions.
We ask that parents do not go past the front desk area in our facilities.  For drop off and pick up, we will ask that they respect social distance guidelines while waiting in line to drop off their children.  We will have markers indicating proper distancing while waiting in line.
Based on feedback from parents, we will not ask kids to wear masks.   Our employees will wear masks.  Employees will also be subject to temperature checks throughout the day as well as more intense guidelines on washing their hands.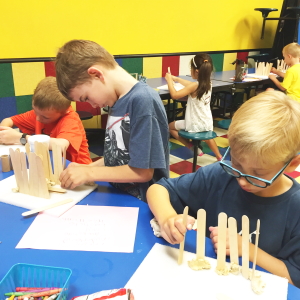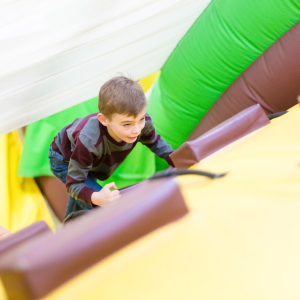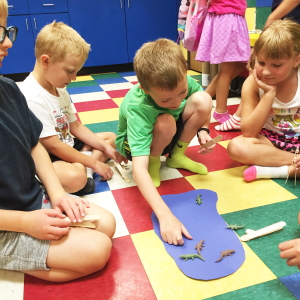 A Letter from Monkey Bizness
My 8 year-old, Alex, asks me every day when he can go back to school.  I never thought I would hear this!  But I know that Alex misses the social interaction, and yes, the learning. 
Last week, Cherry Creek, Douglas County, Denver, and several KC area school districts announced that they would not be offering summer day camps.  Recreation centers are also in limbo, leaving many summer camp providers with no place to host their camps. 
I believe Monkey Bizness can provide a safe alternative for kids.  I emphasize safety because I would not partially re-open if I didn't think we could do so in a safe way for our children. 
Monkey  Bizness is lucky to have several teachers in our small franchise system.  In fact, 80% of our owners come from an educational background. My wife is a third-grade teacher in Castle Rock, Colorado, and has years of experience designing curriculums, hosting camps, and innovating in the classroom.  Years ago, she designed the Monkey Bizness University program that has been successful in some of our locations. 
It's these factors that led us to decide the best plan for Monkey Bizness in June is to offer kids a place to be kids again.  As a side note, hopefully, we can provide parents a few hours to accomplish some items on their task list.  If you are interested, keep reading for the details. 
What about regular open play and parties
We are currently concentrating on hosting parties during weeknights and weekends throughout June (should guidelines allow that).  We have a significant backlog of people interested in holding parties as well as groups that wish to host events for preschool graduations and just to see their friends again.  We hope to be able to host those soon.   Upon resuming parties, they will all be private parties.
We are monitoring the situation and are formulating a plan to offer open play Saturday and Sunday mornings through June.  At this time, we are working with our owners and awaiting additional guidelines to ensure that we can safely do this.